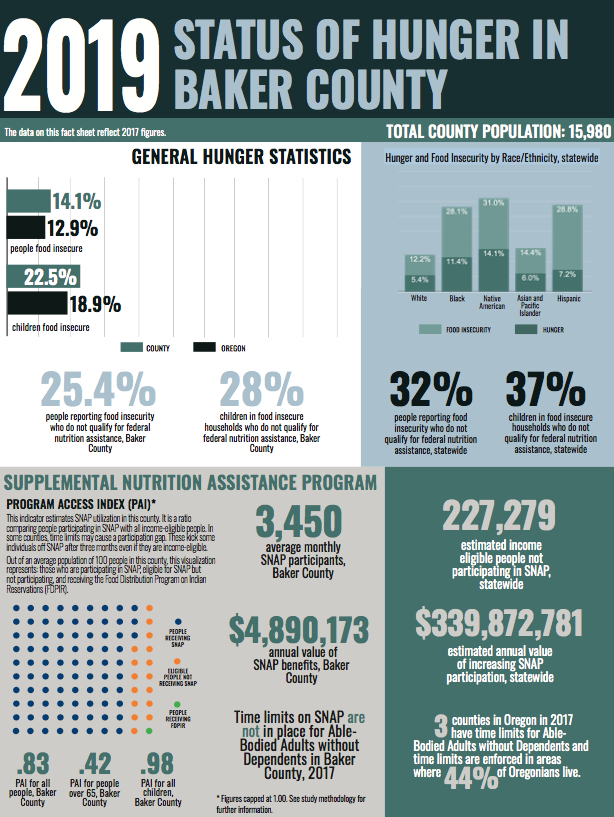 Raising awareness about hunger in Oregon
People in every corner of our state face hunger. Addressing hunger means ensuring all Oregonians can access food assistance when we need it. Yet too many of us are being left out. Strong nutrition support programs that are shaped by community needs, and fully maximize state and federal resources, can ensure no one goes a day without food.
One of the primary responsibilities of the Oregon Hunger Task Force is to research, document, and raise awareness of the status of hunger in Oregon. We do this to inform our public policy recommendations and proposals for government action. The data also helps equip partners and local leaders to address hunger and expand access to public nutrition programs in their community.
These fact sheets provide information for each county in Oregon on rates of hunger and food insecurity, participation data for federal nutrition programs like SNAP, WIC and school meals, and economic benefits of public nutrition programs to local economies. The data also point to gaps in participation, disparities and areas where access needs to be improved. All data are based on calendar year 2017 and academic year 2016-2017 for school-based programs.
Below, download your county's fact sheet (PDF, two pages). At the bottom of the list, find a statewide table of all counties to compare them side by side and the methodology.
Want more info?
Read the 2018 Status of Hunger in Oregon Report
Learn about the 2019 Plan to End Hunger in Oregon
Take Action with Partners for a Hunger-Free Oregon